Holiday Rentals Curacao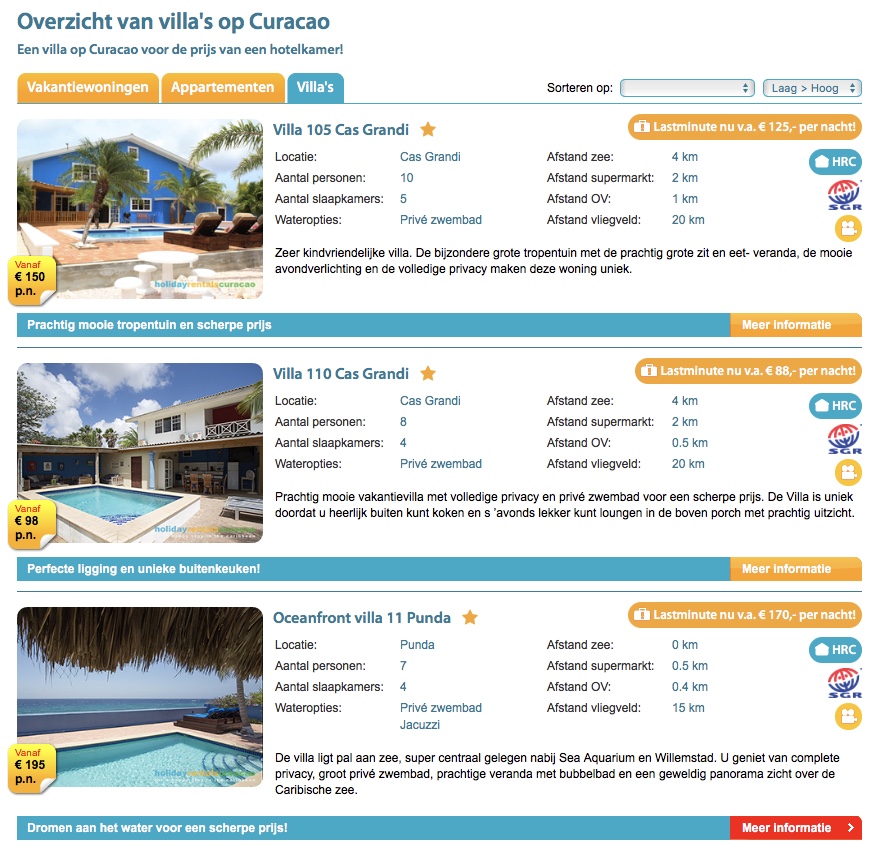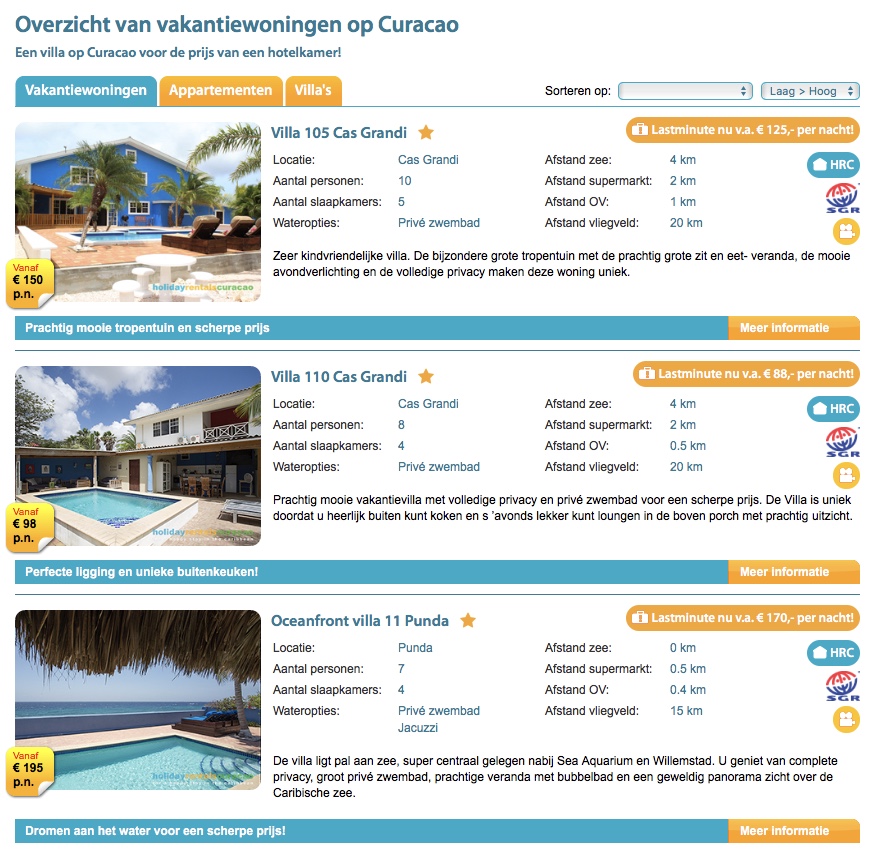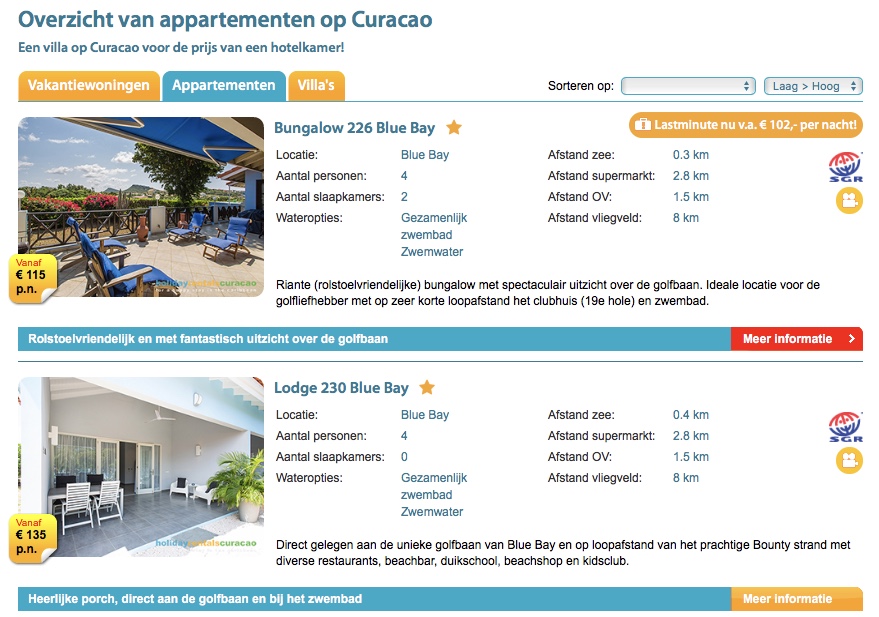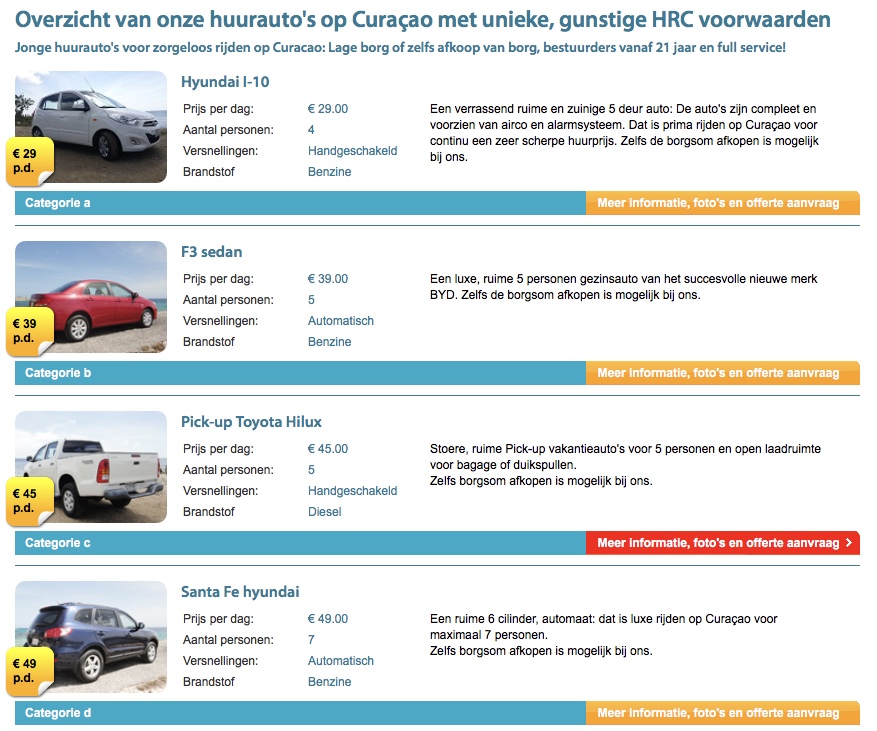 Een vakantiehuis of vakantiewoning huren op Curacao
Veel mogelijkheden. Bent u op zoek naar een vakantiewoning op Curaçao, met veel eigen privacy en ruimte? Dan bieden wij u het grootste assortiment van particuliere vakantiehuizen op Curaçao. Met of zonder privé zwembad, jacuzzi of zeezicht en in de meest populaire wijken van Curaçao; Jan Thiel, Cas Grandi of Jan Sofat. Natuurlijk bieden wij ook accommodaties op Curaçao in of nabij Punda, het centrum van Willemstad of bij Mambo Beach.
Vakantie Curaçao. Wij hebben de meeste appartementen in curaçao te huur; mooie vakantiehuizen tegen de scherpste lage prijs en veilig boeken. Ons team op Curaçao staat voor de unieke service van ons bedrijf.
Een luxe villa huren op Curacao
Meer luxe? Zoekt u een mooie villa of bungalow op Curaçao, waarbij de luxe en de eigen vrijheid van groot belang is? Dan bent u bij ons aan het juiste adres, ook voor last minute aanbiedingen.
Groot aanbod. Wij bieden u een zeer groot assortiment van Villa's aan, die alle mogelijkheden bieden voor een ideale vakantie op het mooie eiland Curaçao; gelegen aan het water, ligging aan de Caribische zee of met een geweldig uitzicht. Als u een villa op curaçao wil huren bent u bij ons op het juiste adres; van droomvilla of beach villa tot vakantiehuizen op de ideale locaties zoals Jan Thiel, Cas Grandi of rondom het Spaanse water: bekijk ons aanbod van ruim 100 villa's op Curaçao.
Een appartement of studio huren op Curacao
Scherpste prijs. U zoekt een appartement of studio op Curaçao? Dan kunnen wij u een zeer groot aantal mooie appartementen bieden tegen de laagste appartement prijs! U kunt bij ons appartementen huren van goedkoop naar luxe, op Jan Thiel of vlakbij Sea aquarium beach of bij Mambo Beach op Curaçao.
Veel keuze mogelijkheden. Deze vakantie verblijven kunnen zeer luxe zijn of voldoende en compleet, ligging aan het water of in het centrum van Willemstad, op Jan Thiel of de westpunt van het eiland, voor 2 of 4 personen, de keuze is aan u!
Overzicht van onze huurauto's op Curaçao met unieke, gunstige HRC voorwaarden
Jonge huurauto's voor zorgeloos rijden op Curacao: Lage borg of zelfs afkoop van borg, bestuurders vanaf 21 jaar en full service!
Werkzaamheden Holiday Rentals Curacao:
Verhuurbemiddeling van vakantiewoningen op Curacao
Professioneel woningbeheer van vakantiewoningen op Curaçao
24/7 gastenbegeleiding op Curaçao
Autoverhuur
Contactgegevens
Info en reserveringen van vakantiewoningen en huurauto's
E-mail: verhuur@holidayrentalscuracao.com
Tel: 005999-5642096

Skypenaam: Verhuur Holiday Rentals Curacao

Info en algemene vragen
E-mail: info@holidayrentalscuracao.com
Tel: 005999-5132267

Skypenaam: Holiday Rentals Curacao
Heeft u vragen? Vul dan onderstaand formulier in.
Wij nemen dan zo spoedig mogelijk contact met u op.
Wilt u rechtstreeks contact dan kunt u ons bellen.
Do you have questions? Please fill out the form below.
We will then contact you as soon as possible.
Would you direct contact you can call us.
Phone/Whatsapp: Tel: 005999-5642096