Beveiligings Bedrijven Curacao Security Curacao
Bij Innotech Curacao doen we alles wat we kunnen om een betrouwbaar en kwalitatief goed systeem te leveren. Zoiets bestaat niet alleen uit een alarm, maar ook uit aanvullende beveiliging. Indringers slagen er soms in binnen te dringen door een systeem te deactiveren van buitenaf en ook daar zijn wij op voorbereid. Innotech Curacao biedt daarom verschillende, aanvullende manieren om indringers te dwarsbomen door hen te vertragen of te stoppen. Ons systeem is aangepast op uw situatie en benodigdheden en kan uitgerust worden met sirenes, mistmachines en lichten om een inbraak te verijdelen of in ieder geval de schade te beperken. Lees meer.....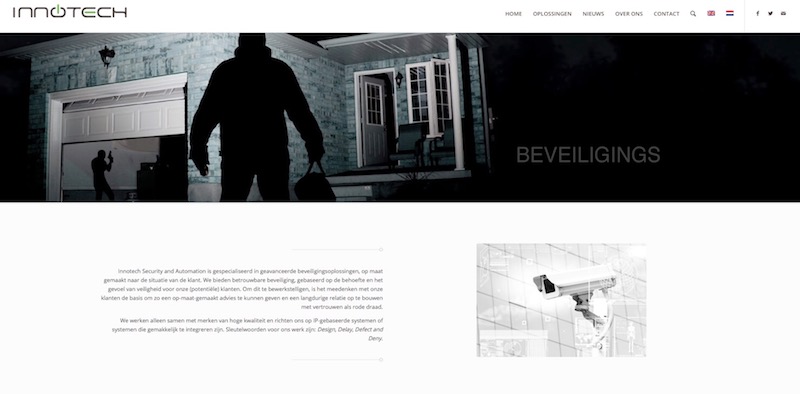 Terreinbeveiliging
Innotech biedt 24/7, 365 dagen per jaar betrouwbare terreinbeveiliging. Een strook met zeer gevoelige sensoren kan aan uw hek worden bevestigd. Deze sensoren detecteren elke vorm van beweging (zoals klimmen en het snijden of breken van het hek) op elk tijdstip van de dag of nacht.
Schrikdraadbeveiliging
Een elektronisch hek werd jarenlang gezien als slechts een hindernis, maar met de moderne techniek en innovaties is een elektronisch hek tegenwoordig te gebruiken als compleet beveiligingssysteem. Innotech biedt een elektronisch heksysteem met een grote variatie aan opties om een indringer te vertragen en activiteiten rondom het hek waar te nemen. Ook bestaat de mogelijkheid om een elektrische schok te generen op het moment dat iemand het hek aanraakt.
Ondergrondse beveiliging
Dit systeem wordt geïnstalleerd onder de grond en is onzichtbaar voor het blote oog. Het systeem kan worden geïnstalleerd onder verschillende ondergronden zoals asfalt, gras, maar ook onder bijvoorbeeld een dak.
Videoanalyse

Video Content Analytics tilt camerasurveillance naar een hoger niveau. Het VCA systeem kan beelden analyseren, verdachte bewegingen herkennen en direct het alarm activeren wanneer zich iets verdachts voordoet. Een grote meerwaarde is dat u of de instanties de camerabeelden direct kunnen bekijken en een vervolgactie meteen ingezet kan worden.

Hotelsloten

Van een klein hostel tot een grote hotelketen: Innotech biedt oplossingen op maat. Een opvallend, klassiek slot dat perfect aansluit bij het karakter van uw locatie; een slot dat juist versmelt met het interieur of een bestaand slot dat toe is aan een upgrade: we hebben het allemaal in huis voor elk budget en van simpel tot SMART.