IT RAINS FISHES BAR & RESTAURANT BONAIRE
Dit, in oktober 2017 kompleet gerenoveerde restaurant, biedt geweldige dinerervaringen langs de waterkant van dit adembenemende tropisch paradijsje in Caribisch Nederland. Ons vernieuwende menu, stijlvolle inrichting en gekwalificeerd personeel, dragen allemaal bij aan een gegarandeerd onvergetelijke ervaring. Om het nog maar niet te hebben over de fantastische cocktails en wijntjes, de heerlijke sfeer en de prachtige zonsondergang. Het is niet voor niets een van de oudste restaurants op het eiland.
Onze vis
Vissen maakt nog steeds een groot deel uit van de Bonairiaanse cultuur. Voor It Rains Fishes liggen enkele vissersboten die bijna dagelijks vertrekken in de vroege ochtend om te gaan vissen. Direct na terugkomst wordt de vangst voor het restaurant schoongemaakt. Afhankelijk van de dagelijkse vangst, kunnen veel van deze vissen op onze menukaart teruggevonden worden. Buiten de lokaal gevangen vis, wordt er ook verse vis ingevlogen vanuit landen als Nederland, Amerika en Canada.

Als u verse vis en zeevruchten mee naar huis wilt nemen om zelf te koken, dan kan dat ook. U kunt ons bellen op 717-8780 of komt u gezellig 's middags langs om te vragen wat de vangst van de dag is. Ons personeel helpt u graag met uitleg over de diverse soorten vis en zeevruchten en de bereiding ervan.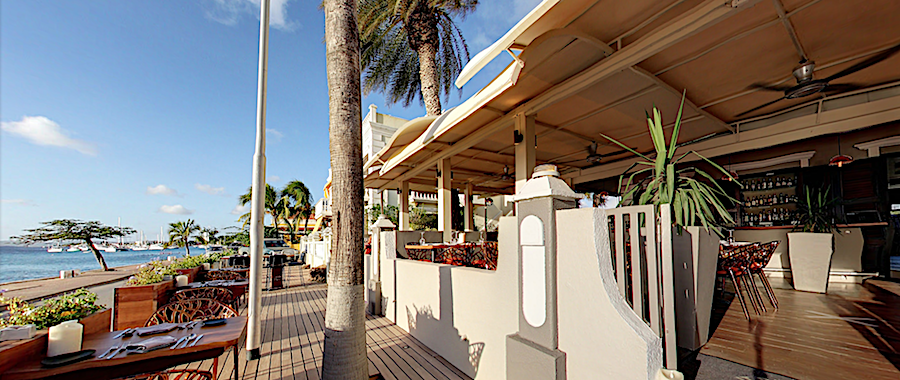 Onze Chef's Table
Een unieke ervaring!
Wilt u ultiem genieten van de culinaire kwaliteiten van Live Cooking? Kies dan voor ons nieuwe concept: de Chef's Table. In onze vernieuwde restaurant serveert onze chef u en uw gezelschap een exclusief 6-gangen menu. Perfect voor verjaardagen, andere festiviteiten, of als u houd van uitgebreid dineren.
De Chef's Table is te boeken voor groepen tussen de zes en veertien personen. Voor $64,50 p.p. kunt u al genieten van een welkomst-Prosecco en een uitgebreid zesgangenmenu. U kunt er ook voor kiezen om te dineren met een speciaal wijn- of bierarrangement en koffie/thee toe, voor maar $87,50 p.p.

De Chef's Table kan alleen van tevoren gereserveerd worden. Dit in verband met alle voorbereidingen die getroffen moeten worden om voor u het maximale te kunnen verzorgen.
It Rains Fishes Bonaire
Ons menu
Download ons nieuwste menu hier ►!
Geopend van maandag-zaterdag, van 10:00 uur tot 22:00 uur. Op zondag gesloten | lunch van 10:00 tot 15:00 en diner van 17:00 tot 22:00 | We accepteren US$, €, Antilliaanse guldens en alle creditcards
De geschiedenis van It Rains Fishes ►
Het gebouw en haar historie
Veel mensen komen in ons restaurant terecht en genieten van het culinaire aanbod, de uitstekende service en waarderen de architectuur, zonder op de hoogte te zijn van de geschiedenis van het gebouw. Het gebouw is meer dan 100 jaar oud, Wij geven u een historisch verslag van de "Kas di Pa Kachi Craane en Ma Seshi Craane-Graavenhorst".
"Kas di Pa Kachi Craane i Ma Seshi Craane Gravenhorst" is een huis gelegen aan het water van Playa Pabou. Deze bouwstijl is wat Frans Booi noemt "Kas di Kaha" (doosmodel). De structuur bestaat uit drie daken, een schilddak met dakkapellen eromheen. De toppen van de daken zijn meestal versierd met figuren of beelden.
2KAYA JAN N.E. CRAANE 24
KRALENDIJK - BONAIRE
CARIBISCH NEDERLAND
Phone: +5999 7178780
E-MAIL: