HOTEL RIU PALACE ARUBA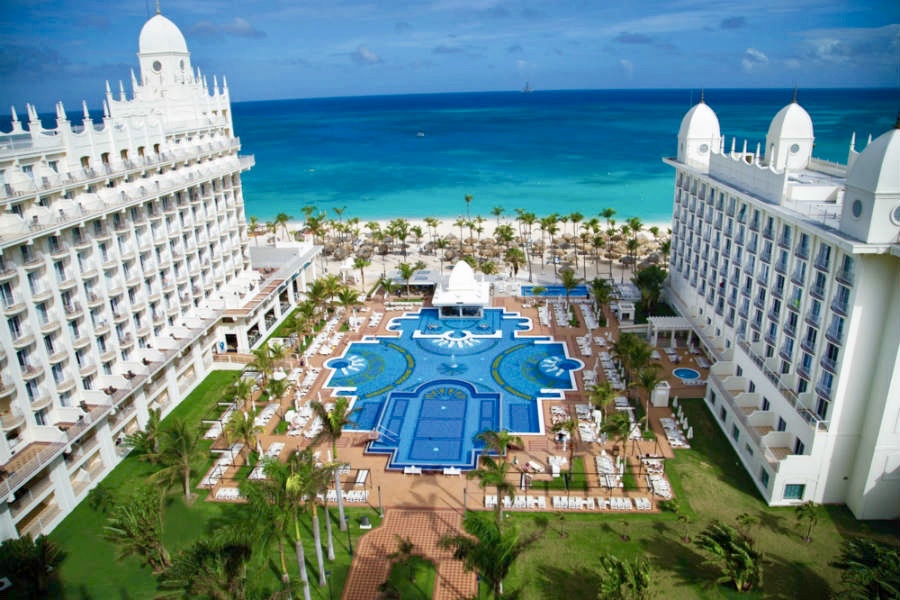 Het Hotel Riu Palace Aruba is gelegen op het indrukwekkende strand Palm Beach op Aruba, en biedt de beste faciliteiten om van een onvergetelijk verblijf te genieten. Dit 24-uurs- all- inclusivehotel in Palm Beach beschikt over een breed gastronomisch aanbod, tal van faciliteiten en de beste exclusieve service die zo karakteristiek is voor RIU Hotels & Resorts.
De meer dan 400 kamers van het Hotel Riu Palace Aruba zijn voorzien van alle gemakken zodat u van een optimaal comfort geniet, zoals onder andere WiFi, satelliet-tv, airconditioning, een minibar en drankdispensers. Daarnaast vindt u bij het hotel 2 buitenzwembaden en 1 kinderzwembad waar u verfrissing kunt zoeken. Op het strand geniet u van ligstoelen en parasols, zodat u heerlijk kunt ontspannen van het warme klimaat van Aruba.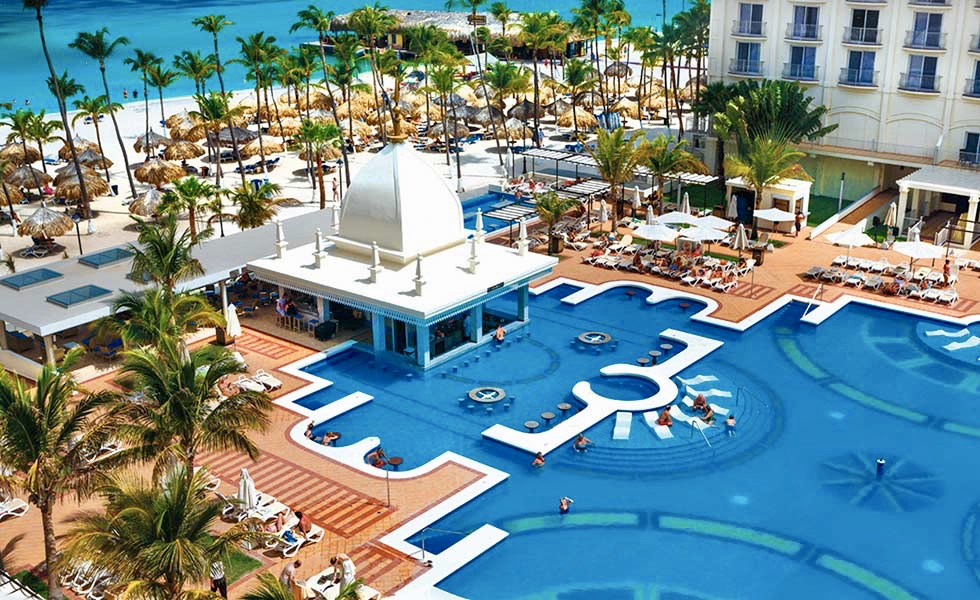 In dit all-inclusivehotel in Palm Beach zult u zich geen moment vervelen dankzij de amusementsprogramma's zowel overdag als 's nachts, met tal van activiteiten, shows en livemuziek voor alle leeftijden. Als u ook actief wilt blijven is het mogelijk om een bezoek te brengen een de sportschool, of te beachvolleyballen, paddle-surfen, duiken of kajakken in de omgeving van het hotel. Indien u liever ontspant, dan is het een goed idee om de Renova Spa van het Hotel Riu Palace Aruba aan te doen, waar u een hydromassagebad, een sauna en verschillende behandelingen vindt, zodat u als herboren terugkeert van uw vakantie. Ook voor vergaderingen of speciale bijeenkomsten kunt u hier perfect terecht dankzij de 2 vergaderruimtes waar u van de beste service wordt voorzien.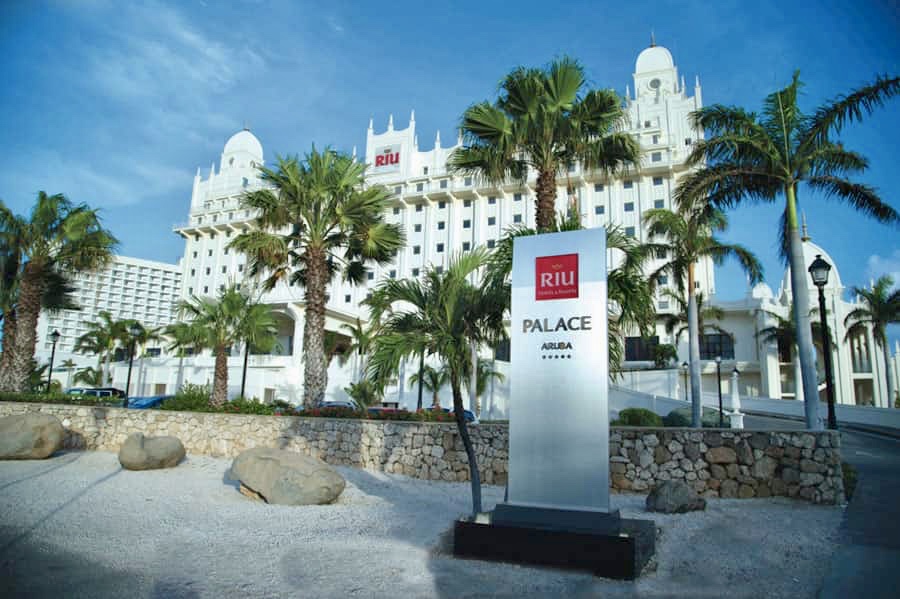 Het gastronomische aanbod in het Hotel Riu Palace Aruba zal u versteld doen staan. In de 5 restaurants kunt u genieten van het ontbijtbuffet met showcooking-stations, een heerlijke fusion-keuken, Italiaanse en Japanse gerechten, of u doet u tegoed aan het beste vlees in het steakhouse aan het zwembad. Bovendien kunt u in de bars van het hotel tal van snacks en aperitiefjes nuttigen, zoals bijvoorbeeld in de bar casino, in de patisserie of de ijscobar, of de swim-upbar van het zwembad. Als u 's nachts vermaak zoekt is een bezoekje aan de discotheek van het Hotel Riu Palace Antillas een geweldige optie.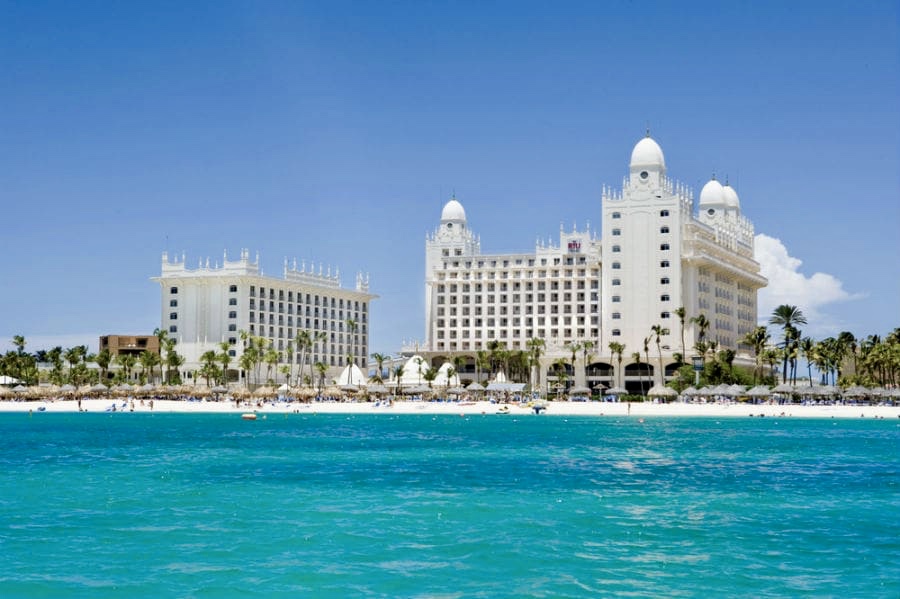 Aruba is een heus paradijs waar u van een onvergetelijke vakantie zult genieten. Als u het eiland wat beter wilt leren kennen, is het een idee om een bezoek te brengen aan de prachtige natuurlandschappen, zoals het natuurlijke zwembad Cura di Tortuga, of het Nationaal Park Arikok, en natuurlijk de hoofdstad, Oranjestad. Als u meer informatie wilt, raden wij u aan om onze toeristische gids van Aruba te raadplegen, of de beste aanbiedingen van het Hotel Riu Palace Aruba te leren kennen. Ontdek Aruba met RIU Hotels & Resorts!
Het Hotel Riu Palace Aruba en het Hotel Riu Palace Antillas liggen aan een hemels mooi strand en slechts op een paar kilometer afstand van Oranjestad, de hoofdstad van dit Caribische eiland. In de omgeving van deze all-inclusive hotels in Palm Beach kunt u sporten beoefenen als windsurfen, duiken, vissen. Ook kunt u een wandeling onder hoge palmbomen maken, lekker luieren in de zon of afkoelen in het kristalheldere water van de Caribische Zee.